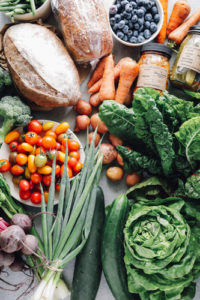 There is a growing problem in America that is reaching a fever pitch. You have not heard much about in on the news and you'll be hard-pressed to find a well-written expose on the subject in your favorite magazine. The issue we are facing is food inequality. Maybe you are facing it yourself and don't know it. What does it look like?
Food inequality looks like a bunch of little things that add up to a big problem for the people subjected to it. All humans need a variety of foods that when combined make for proper nutrition. This includes fresh meats, dairy, whole grains, and fruits and vegetables. Having the right mix of these foods provides most children with the vitamins and minerals they need to grow strong and healthy. With prolonged lack of proper nutrition, children can face developmental delays, dental and digestive issues, along with behavior problems and sleep disturbances.
Nutrition is important for us all but especially important to growing children. What foods we bring into the house decide what nutrition will look like for everyone. We are what we eat in more ways than one.
Food Inequality Is Primarily Due To Lack Of Accessibility
With food inequality, it's one thing to know what we need to eat each day and another be able to buy the things we need that make up a healthy diet. Most parents know that their children need fruits and vegetables, along with whole grains for good nutrition. But not all moms and dads have those foods readily accessible to them.
The low-cost grocery stores you can easily find in urban neighborhoods may stretch the food budget a little bit but what you find in most of these stores is a lot of processed food that doesn't provide much nutritional value. A frozen meal might fill up hungry tummies in a pinch but a steady diet of them spells trouble for balanced nutrition.
Processed foods come in a bag or a box. These are the foods you find in the frozen food aisle, like frozen entrees and ready-to-bake meals. If it comes with a list of ingredients, it's processed food. No one is knocking a chip every now and then but they shouldn't be part of a daily diet. Breaded, fried foods are a fun treat but you can't live on them and have a balanced diet. Most processed foods are also high in fat and sodium. Both of these things can lead to health issues like obesity and high blood pressure.
There Are Fresh Foods Available In Ways You Don't Expect
While it is true that fresh food does cost a little more, you will find that these foods also fill you up faster, making the food budget go a little further than you think. All the fresh resources you need in an urban community are available, but you need to know where to find them.
WIC makes farmer's market vouchers available to you to take to buy fresh produce and other goods. You don't have to travel far to find a farmer's market near you. If you receive WIC benefits, contact your local WIC office for farmer's market vouchers you can use to bring beautiful, nutritious food anyone in the home can benefit from.
Some Co-Op farms also accept EBT cards. His Harvest in Wolcott, CT accepts EBT Cards and they will deliver your produce to you at local pickup places so you don't have to travel far to get organic produce and meats! These foods will do a body good, and support local farmers in Connecticut so there is no reason not to take advantage of this glorious fresh food resource.
Getting Kids To Eat Their Fruits And Vegetables
Children who are making a change to more nutritious food will inevitably object to green things hitting their plates. Don't despair. There are clever ways to introduce fruits and vegetables to your picky eaters that lower the objections and up nutrition.
Studies show that children are more apt to try new foods if they are involved in the cooking process. Getting your kids in the kitchen alongside you to chop and prepare is fun and educational. It will also make less work out of your food prep. Kids who make their food will enjoy trying what they made. Want to get them to eat better? Ask them to cook.
Trying fun new recipes out will also get you and the kids excited to try their vegetables. you can find interesting recipes that are kid-friendly right on Pinterest. Gather the kids around the computer to look over the recipes on Pinterest. Get their input into what they'd like to try and then have them help you make it. What better way to bond and be better educated on proper nutrition than family time in the kitchen?
If You Need Help Finding Fresh Food Resources
We hope we got you and your family excited to make better food choices, educated you about dealing with food inequality, and prepared your kids to have healthier meals. If you are having trouble overcoming food inequity to find better food choices near you in CT, or you want to know more about the nutrition programs through WIC and EBT, contact us today for a free consultation. The reality of food inequality is a reality, but the choice to make better choices is still up to you. Here's to better health.