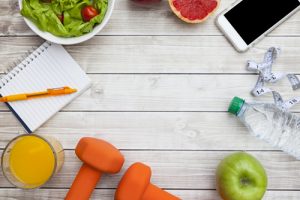 Being pregnant sure does change things. The adage, "eating for two," has been dismissed as nothing more than asking for trouble. Women who are pregnant for the first time are often shocked to be presented with a bunch of rules for taking care of themselves during pregnancy. If you were not focused on healthy eating before your pregnancy, making changes can feel like a tall order. Trying to figure out how to be healthier during pregnancy can be overwhelming for some. We'll take a look at some ways to make healthy habits easy for the expecting mom.
Before you go out and join a gym and resign yourself to eating nothing but salads for nine months, relax. Being healthier during pregnancy is not that extreme. You can make small changes that make big impacts. Not only will you set your baby up for success but finding ways to be healthier during pregnancy will make pregnancy on your body easy in general.
Being Healthier During Pregnancy Starts With Baby Steps
Most pregnant moms are told to cut out soda and focus on drinking at least 10 8-oz glasses of water a day. Moms who are not regular water drinkers may turn their nose up at the idea of so much water, but it doesn't have to be drudgery. There are simple ways to incorporate more water into your diet without making it such a chore.
Put Fruit Slices In Your Water – One of the easiest ways to make water more palatable for non-water drinkers is to add fresh fruit slices to your water. Slicing up lemons, limes, oranges, or pineapple and adding them to your water makes the water go down faster. Try keeping fruit slices in your refrigerator to add to your water whenever you need a glass.
Use A Water Tracker – There are simple apps that you can install on your phone to make keeping track of water drinking a little more fun. These water trackers help you log in your water intake daily and even give you alerts if you have not logged your water intake for a while. These apps make being reminded to drink water fun and set up getting enough water more of a game than a pain.
Pregnant moms should greatly limit caffeine and soda. It is not advised to consume these beverages during pregnancy. Talk to your doctor about coffee intake if you must have your cup of Joe in the morning. Energy drinks are off the menu, for now, Mom.
Focusing On Nutrition Without Overhauling Your Diet
Another thing that women are faced with when they are trying to be healthier during pregnancy is incorporating more fruits and vegetables into their diet. For moms on the run, the idea of fresh fruits and vegetables can seem like mission impossible. Eating a fresher diet can be fun and enjoyable if you make small changes and give eating healthier a try.
Fresh fruits and vegetables provide vital nutrients to both a pregnant woman and her growing baby. While prenatal vitamins are good, they do not make up for the health benefits of eating fruits and vegetables. Not much a veggie person? Perhaps there are some small moves toward eating your vegetables that you can make that will help it feel less daunting.
Try Smoothies – It might seem so simple, but blending fruits and vegetables can be a great way for pregnant moms to get more nutrition. It doesn't need to be an expensive endeavor either. Shop for fruits that are ripe now and cut them up, and put them in the freezer. You can also try frozen spinach or kale in the freezer section of your grocery store for a less expensive and sustainable source of smoothie material. Pinterest has dozens of fruit and vegetable smoothie combinations that will satisfy your need for delicious and help you get much-needed nutrition at the same time.
Try Riced Vegetables – Another easy win for nutrition for staying healthier during pregnancy is riced vegetables. You can buy them either frozen, fresh, or grate them yourself. Mixing riced vegetables into macaroni and cheese or other rice or potato-based sides are easy ways to sneak in some vegetables and help your children eat their veggies too.
Finding The Right Advice For Healthier Pregnancies
Your obstetrician can offer you lots of information on being a healthier mom. They can steer you in the direction of online resources to educate yourself on being healthier during your pregnancy.
Women's resource centers like ABC Women's Center can also be the bridge to resources on how to be a healthier mom or get some advice on your pregnancy in general. If you would like to talk to someone about how to be the healthiest pregnant woman you can be, physically and emotionally, make an appointment to talk to someone today.