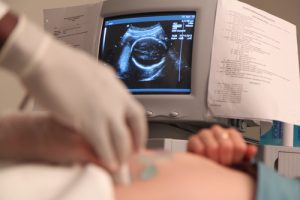 Giving Tuesday has come once again. Our social feeds look stuffed with pleas for charitable dollars. It is during this season that many pro-life organizations find it especially competitive for donors. The need in the pro-life community is great. There are plenty of reasons why you should give to your local women's resource center on Giving Tuesday. 
Some pro-life organizations focus on building awareness around the societal ills of abortion. Others press Washington, D.C. to pass pro-life legislation. It's the quiet work of your local women's resource center that works diligently to meet the needs of the real women and their children in the crosshairs of the pro-life fight.
If you want to be sure that women choose life for their children, there is no better way to ensure that than to support your local women's resource center on Giving Tuesday.
Support A Women's Resource Center On Giving Tuesday
Pro-life Christians and non-Christians alike want to interrupt the idea that abortion is the only feasible way to deal with an unplanned pregnancy. There is information galore on the Internet explaining the science of a fetus, the reasons why a fetus has human rights, and the negative medical side effects of abortion. What you typically don't hear much about are the men and women who go to work every day at a women's resource center fielding desperate calls and meeting with women faced with real-world problems.
Women Need People To Support Them In Their Decision – Having organizations in the fight to end abortion is noble. But what the women who are facing an unplanned pregnancy will tell you, what kept them out of the abortion clinic was having the right people to encourage them and support them in choosing life. The men and women who meet these needs are the workers and volunteers at your local women's resource center. Being a faith-based women's resource center prohibits many of them from taking state funding to help defray the cost of their services. They rely solely on the charitable giving of pro-life individuals and businesses to fund their efforts.
Choosing Life Means To Keep Choosing Life – Coming into a women's resource center for a free pregnancy test and ultrasound is one of the services that they offer. Women who choose life on that day instead of abortion need to keep choosing life until delivery. Many outside forces are impacting a woman's decision to keep choosing life. The men and women at your local women's resource center are there to keep meeting the needs of women in crisis throughout their pregnancy. None of the services offered to a pregnant mother are at any cost to her. Crisis pregnancy works spend countless hours counseling pregnant women about how to keep choosing life when the baby's father or her family would have her decide otherwise. Those hours cost the center money. That money is only available by donors. One reason to support a women's resource center on Giving Tuesday is to fund the cost of the battle for each family that is fought daily at every women's resource center. These are the fights you seldom hear about on the news, but they are every bit as real. 
Mothers Need More Than Pregnancy Counseling – One thing you will never hear at any women's resource center is that they have everything they need to be able to supply new moms with the items the baby needs for his or her arrival. Women's resource centers are typically funding what pregnant women need to be able to care for their babies when they arrive home. These items are things that most women get at a baby shower, but many of the moms at a local women's resource center never have the blessing of benefitting from one. It's is women's resource centers who take up the slack to make sure mom and dad are ready to take the baby home.
Diapers
Car Seats
Clothing
Bath Items
Cribs
Stroller
Maternity Clothes
These are just a few things that your donation will help provide if you support a women's resource center on Giving Tuesday.
Supporting Moms And Women Suffering From Past Abortions – The fight for life means caring for mom and her family after the baby is born. If we want women to feel good about choosing life and confident in their role as a parent, we have to support them in doing so. Your local women's resource center often provides parental counseling and classes, so her transition from a pregnant woman to a successful mother is as smooth as possible. Most women suffer mental health issues as a result of a past abortion. Many local women's resource centers provide post-abortive healing ministries to meet the needs of this often forgotten group of women in need of compassion and care. Your Giving Tuesday dollars are well-used in providing these services all year long.
Find Out More About How To Support Your Local Center
If you would like to find out more about how to support your local women's resource center this Giving Tuesday or any day this holiday season, all you have to do is ask. ABC Women's Center volunteers would be happy to tell you what the specific needs are for the center that day so you can decide not just how much to give but what to give it for.
For more information on the current needs of the clients at ABC Women's Center, contact us today so we can let you know how to help. Happy Holiday Season to you all, and thank you for supporting your local women's resource center on Giving Tuesday.