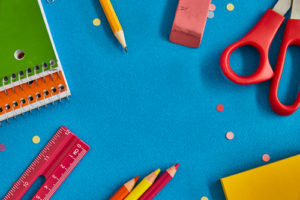 This time of year, every household with school-aged children is a flurry of new school clothes, supplies, and shiny new lunch boxes. Excitement always runs high from great expectations. But the well-intentioned plans of the first couple weeks of school tend to tire quickly. Before anyone sees the first progress report, school things are lost just as quickly as the good intentions everyone had. The new school year has arrived. What can you do to keep kids organized this school year?
Studies show that planning and organizing reduce stress dramatically. Could you use a little less stress in your house? Being organized also builds confidence. Who wouldn't benefit from a little more confidence? Plenty of kids need a little boost to get the grind of the school year off to a good start. With the current climate they are facing in school as COVID guidelines interrupt the normal flow of the school day, it stands to reason that being organized for success will help them overcome the additional challenges they face with returning to school during a pandemic.
Keep Kids Organized This School Year In A Few Easy Steps You Can All Benefit From
There is no doubt that better organization will help your kids with the confidence they need to tackle the school year. But this new way of handling the school year can actually help the parents too. These trusted steps to better organization will calm everything down and make getting used to the routine of school a little easier.
Make Checklists – You'd be amazed how well a checklist will work for kids of all personalities. Checklists are great for everyone, but for kids who need help becoming self-directed, checklists are an excellent tool. Make a checklist for the night before school. What do your kids need to get organized the night before to make sure that the school morning runs smoothly? What checklist should they check off with to-dos to do in the morning? Make sure you check the checklists to make sure the checks are ticked before they head out to avoid calls to fetch and bring missing homework to school one more time.
Put clothes out the night before – Making sure the outfits are put out before bed will alert you if socks or shirts need to be washed in short order. This will also avoid the scurrying that occurs when everyone is running around the house looking for unfolded laundry that could have that needed pair of uniform pants mixed into it.
Pick a set time for homework – This may seem a little simple but there are great reasons to keep a homework schedule. Families these days are very busy. With parents putting in long hours and a full schedule of after school activities, homework is too easily forgotten about until the last minute. Making a set time for homework to be done, no matter what, will ensure it gets done with enough time to do a good job. This will also clear your calendar to be prepared to assist with homework as needed. Lastly, having a set time for homework will ensure that it is done correctly and on time. Your kids will feel good about getting their school work done and you will have another opportunity for giving praise for a job well done.
Make a place in your home for school work – No matter where school is happening for your kids this year, almost every seasoned homeschool family will tell you that if you want home learning to be a success, you need to make a place for learning to happen. Having a defined place to do homework or school time is a great way to make sure all the supplies needed to get the job done are always in front of your kids.
Your defined learning space should be clear of unnecessary clutter and distractions like the television or foot traffic. When your kids have their place to learn, they will feel calmer about the learning experience. Calmer kids are more open to receiving new information. If you are striving to get your kids to get used to online learning, using a defined learning space may be what you need to help ensure a smoother transition.
Make an effort to check in with your kids – Make an appointment on your phone to check in with your kids on a daily basis to ask how their day was and what homework they have for that day. Ask about any notices that were sent home that you should see and what if any announcements were made at school that you should be aware of, such as half-days or upcoming field trips. Find your school's yearly calendar, usually located on their website, to post somewhere in your kitchen to keep you alerted to special days that need to make it into your work calendar.
Settling Into The New Routine To Keep Kids Organized For Good
It takes about 3 weeks of something new to make it a routine. Your new organization routine will not happen overnight. There may be some resistance at first, but stay firm. The discipline you instill in ensuring your new organizational plans stick will keep you all on track. A little whining now about having to do something new will soon be replaced by less yelling and frustration from being all over the place every school day.
Instilling these 5 great strategies to keep kids organized this school year should make the year more manageable for kids and parents alike. Parents should try giving some of these strategies a go for themselves. An organized parent is a calmer, more confident parent. A more confident parent has a more peaceful household.
If you'd like some more strategies on being a more confident parent, ABC Women's Center is here for you. We offer parent counseling and parenting classes to give parents an edge in building their successful parenting strategies. If you would like to talk to someone about being a more confident parent, contact us today for a no-judgment consultation.