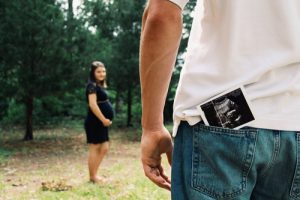 For quite some time, the narrative in both pro-life and pro-abortion narratives was that the choice belonged to the mother alone. Women facing an unplanned pregnancy were encouraged to decide for themselves and not to consider the biological father in the equation. While the pro-abortion movement is married to this position, the pro-life movement is gaining ground based on the shift from the woman's choice to something both parents need to consider. The fight for life is now about helping both parents choose life, rather than isolating the mother to help her make the right choice.
For pregnancy resource centers that not only include both parents in the discussion for their unplanned pregnancy but have men's ministries as part of their outreach, they are overwhelmingly winning the battle for life. This news should make most pregnancy resource centers rethink how they facilitate conversations around unplanned pregnancies.
Helping Both Parents Choose Life Means Abolishing A Myth
How did we get here in the first place? The school of thought that the reason why a woman wouldn't choose life was that she was pressured by the biological father to abort. While this is certainly the case in a lot of scenarios, understanding the reason why a father would encourage abortion that turns things around. Studies show that when fathers are included in the discussion on what decisions to make about an unplanned pregnancy, there are much more men than opposed their partner's abortions than you'd think.
"In a national web-based study of 135 men who have experienced an abortion, 48% of men stated that they opposed their partner's abortion and 69% reported moderate to very high stress following the abortion (Rue, Coyle, & Coleman, 2007)."

USCCB.ORG
With almost half of the men surveyed said they opposed their partners' abortions, it is no wonder that helping both parents choose life is making a greater impact on women who choose life than if we only include them in their choice. How you facilitate the discussion in helping both parents choose life will make all the difference in the outcome. Helping dads feel relaxed and welcomed to participate goes a long way in getting him to open up about how he feels about his unplanned pregnancy.
The things men worry about in an unplanned pregnancy are not the same things a woman is concerned about. Men worry about the practical things about being a father unexpectedly.
Financial stability
Custody
Parental responsibilities
Confidence in his new role
Many of these obstacles are easily overcome when there is a father mentor in place to help this new dad see his way through to the possibilities. Better jobs can be found. Skills can be gained for better employment opportunities. Custody is not usually an issue, once the subject is discussed. Parental responsibilities are always worked out between both parents. Gaining confidence in his new role as a dad is usually found in father mentoring programs and parenting classes offered at most pregnancy resource centers.
The practical reasons to object to choosing life always have real-world solutions. It is just a matter of getting out of one's emotional upheaval long enough to think logically. Having a men's ministry at a pregnancy resource center tells fathers that they have a place there, too. Helping both parents choose life is always about making sure that both sides feel equally included, no matter what the status of their relationship is.
The Fight For Life Is Often Won Once Both Parents Discuss Together
Did you know that most men choose abortion because they either think that abortion is what the mother wants, or they don't have a say anyway? Getting the couple to talk about how each other feels about the situation usually results in helping both parents choose life. What a joy it is to see a couple walk in unsure and afraid, and leave smiling and rejoicing over their new life coming into the world. 
Helping Dad understand what is at stake is also a beautiful way to help him see the possibilities. Pregnancy resource centers with ultrasound equipment and a dad in the room to see his unborn child firsthand bring reality to life but tears of joy from both parents. When it comes to ultrasounds, Dads matter too.
ABC Women's Center Announces Launch Of Men's Ministry
ABC Women's Center in Middletown, CT, announced the launch of their men's ministry at their annual banquet in 2021. This ministry will serve men who need support during an unplanned pregnancy, along with discipleship and encouragement in their new role. This exciting new program aims to strengthen families and relationships as it relates to parenting. If you would like to know more about ABC Women's Center's new men's ministry program, contact us today for more information.