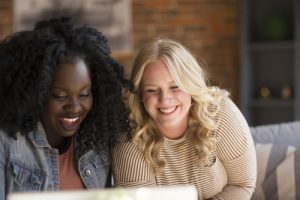 The story is often told of the single mother who sacrificed it all to raise her children. Being a single mother does have its share of challenges. Regardless of her situation, a single mom can start dreaming again. The future for a single mother is still bright. The path to success in life is still there. She might have to get some of the toys and laundry off the floor first.
What can a single mom do to make a better life for herself and her children when she is making it happen all on her own. It might seem impossible, but that usually means that the process feels overwhelming. Chances are, the road to the life you always wanted is not that complicated. You have to take a step forward. Do you remember what your dreams were before you had kids?
Dreams are important for every man, woman, and child. They give us a sense of purpose and meaning in life. A life without dreams is a desperate and depressing one. A single mom needs to know she can still make an impact on the world. She deserves to feel accomplished. God created every single mom to fulfill great purposes. It's time to remember how valuable you are, Mom.
Too Often, A Single Mom Gets Distracted By The Hurdles
If you ask almost any single mom why she hasn't finished school yet, she will almost always say the same thing, "I don't have the money." A single earning in a home does face financial difficulties, but it is not impossible for a single mom to finish her education.
There are many government programs, both at the state and federal level, that are there to help single moms realize their dreams of higher education. Grants for childcare and financing programs are available to the single mom who wants to get her degree. 
Many certificate programs do not require a significant financial investment or a long time to complete. For the single mom who dreams of being more, these are great ways to get into an industry and work your way up in your career. Getting your certificate in a given industry is a great way to see if it is a good fit for you and your family before you invest thousands of dollars in a career you don't end up wanting to stay in.
Many women dreamed of getting their degrees and dedicating themselves to meaningful work. Those dreams are not dead. They are waiting for you to remember how important they were to you.
The value of an online degree has increased dramatically over the years. Many single moms have finished their degrees through many esteemed and accredited online universities or colleges with online programs. These programs can be done when the kids are in school or bed. Getting that degree finished is doable for single moms who think they don't have the time to get the job done. You can do it, Mom!
It Is Good For Your Kids To See You Realize Your Dreams
Nothing is more inspiring to your children than to see you hustling to make it happen for yourself. When our children see us working on our dreams, they see how to do it for themselves. Do we want to tell them they can be whoever they want, or do we want to show them how it gets done? Inspire your kids to greatness, Mom!
When we work on our dreams, and we inspire our kids to envision more for themselves, everyone tries a little harder. We can tell our kids how important an education is, or we can demonstrate to them why. Children pay much more attention to what you do than what you say, Mom. If you tell them their dreams are well within their reach, then take a bit of your advice. A single mom can be her own inspiration by modeling the right behavior for her kids.
If An Unplanned Pregnancy Has You Doubting Your Future
Too many women facing an unplanned pregnancy think their dreams and their future are over. This is simply not true. A single mom can still be whoever she wanted to be before her pregnancy test showed its results. Kids are not dream killers. They are the fuel to make your life be all that you wanted it to be. Kids give a single mom purpose and passion to realize their dreams they don't kill them. If you want to talk to someone about what life looks like now that you know you are pregnant, contact us to speak to our pregnancy counselors. It is not over, Mom. Let us show you how you can still keep your dreams and your baby, too.