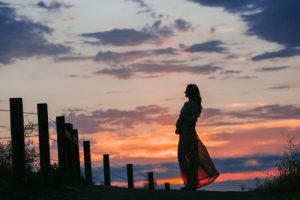 Being a mom for the first time is exhilarating. There are so many things to experience. But nine months is a long time. During your pregnancy, there are plenty of things to think about. For those who have never been a parent before, the excitement can give way to anxiety pretty easily. How do you mentally prepare to be a mom? What can be done so those new days of holding your newborn baby in your arms are filled with more confidence in your role?
You can read all the magazines, subscribe to every parenting website and you still won't have every piece of information you need to handle everything that comes your way when it comes to being a new mom. But plenty of us have tried! It seems that the more information you try to take in, the more anxiety it produces. With every new technique mentioned on the internet on how to properly raise a newborn, comes other things to worry about. How do you wade through it all without becoming lost in despair?
Mentally Prepare To Be A Mom By Keeping It Simple
If you comb the baby stores looking for things to buy for baby, you can become wrapped in the marketing trap of thinking you need everything they are offering you. Suffice it to say that not everything they sell for a baby is what you need to raise one. There are plenty of things that don't need to be on your baby shopping list, no matter how convenient they look.
Some baby items are not only unnecessary but expensive. Just because something for a baby is expensive doesn't mean it is better or something you need to have. Part of trying to mentally prepare for being a mom involves being practical about what you need and letting go of what either doesn't meet your budget or isn't needed. Most moms find out that they don't need that $1,000 stroller to walk their baby through the park. There are plenty of budget-friendly strollers that work just fine.
You also don't need to spend a lot of money on maternity clothes to get through your pregnancy in stylish comfort. Walmart has some great choices that are easy on the wallet. The expensive maternity stores have the same quality but with a bigger price point. It's also important to avoid buying all the maternity clothes at one time. Bellies grow. Buy a few things at each stage, so you are not growing out of things and having to buy a new wardrobe all over again. You can use that money to buy cute clothes for the baby instead (who will also grow out of everything way too fast).
Staying In A Good Place Mentally As You Prepare
There is practically preparing and emotionally preparing to be a new mom. While it is good for you to eat right for yourself and your growing baby, being emotionally healthy is just as important. Pregnant moms have rapidly changing hormones that contribute to mood swings and feelings of anxiety. Being able to mentally prepare to be a mom means you need to take good care of your emotional state in the process. To do that, you must be intentional about protecting your inner peace. Eliminating the stress factors as much as possible is useful in keeping calm and grounded during your pregnancy. Work is one thing you probably can't avoid, but you can communicate to your boss about what unnecessary stressors may have to be limited so you can do your job during your pregnancy. Make a list of the things that stress you out and ask yourself what would make them less stressful. You might find there are things in your life that have to be managed or avoided to feel emotionally healthier during your pregnancy. 
Getting Good Advice During Your Pregnancy Helps
There will always be questions that arise when you are pregnant that need answering to feel better about yourself. That is when your neighborhood pregnancy resource center becomes a trusted partner in helping you mentally prepare to be a mom. They have inside information on services and programs that will help you seamlessly transition from pregnant mom to mother of a newborn. Pregnancy resource centers like ABC Women's Center also provide some needed items for new babies through toddler years. If you would like to know more about how a pregnancy resource center can help you mentally prepare to be a mom, contact us today for a consultation.