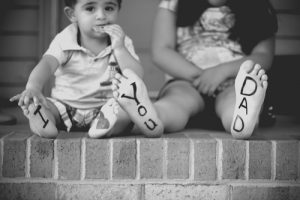 Father's Day is hot on our heels. Have you finished your Father's Day shopping yet? If you are like me, you are in a quandary over what to do to make Dad feel celebrated this year. There are only so many cool t-shirts, and sports fan hats you can get a man! Father's Day is about honoring the position of father, whatever that means to your family. More importantly, how can your kids genuinely honor dad, even when their relationship with their father isn't what it should be?
A lot of moms struggle with this conundrum. It's fair to say that for some Father's Day is just another reminder of what isn't. But that doesn't mean that Father's Day should be ignored or be used to be a mean-spirited jab at the one who holds the title. Being a good mother is about modeling the behavior that we want our children to follow. We want our children to be compassionate and forgiving. It starts with us.
Your Kids Can Honor Dad With A Video Message
If the relationship between your kids and their father is strained or has been distant lately, a video message for Father's Day can be just the bridge over the emotional gap. It doesn't cost a dime to make a short video aimed a letting Dad know he is thought of on Father's Day. 
Keep the message short and positive. Let your kids' father know he is still valued for the role he plays, even if he is not fulfilling it the way he should right now. We've all been at points in our lives that we wish others didn't get to witness. Bearing that in mind when you roll this idea out to your kids is a good way to present the idea without being met with resistance. When kids don't have a good relationship with their dad, their little hearts are hurting. That comes out in angry ways. Kids don't do a great job of articulating how they feel and why. Well, a lot of adults don't either, let's be honest. If this idea is met with an emotional reaction, let them vent how they feel. It's okay to get the words out and help them process.
Once the emotions are out of the way, it's time to start planning what Dad's video message will be like. What does your child want to say? Writing out what you want to say before you say it will make the video go smoother because they aren't thinking while they're speaking. Will the video include props? Making pictures or art to showcase in the video is a cute way to bring in your child's artistic talents and will liven up the video. Your kids can honor Dad by using their creative talents to show him what they like to do.
Make A Package To Send To Dad Showcasing Your Child
If a video isn't in the cards, how about making one? Sending off a package of homemade Father's Day cards, a recent picture of your child, and maybe a handwritten note from your child is a great way your kids can honor dad for Father's Day from a distance. This is also another super low-cost way to help your kids make Father's Day special for their dad without breaking the bank having to spend a lot of money shipping things.
Who doesn't like homemade stuff from their kids? Get a large shipping envelope from your local Dollar Store and take it home to allow your kids to decide what they will put in there for Dad's care package. They will have fun trying to figure out what to put in there to make Dad feel loved for Father's Day. They can even decorate the outside of the envelope for Dad as well.
Sharing the love from a distance makes the heart grow fonder for everyone. He might not be expecting a package from your child. That can be just the remedy he needs to get to mending fences with your kids. 
Dealing With Negative Co-Parenting Situations As A Mother
Even if you don't think you are showing it, your kids know when you do not think well of their father. We carry that pain around with us every day. When Father's Day comes, it gets upfront and personal for the whole house. If you would like to talk to someone about single parenting and how to help yourself and your kids do a better job of navigating a single-parent household, contact us today for our parenting classes. We are here to help the whole family thrive.