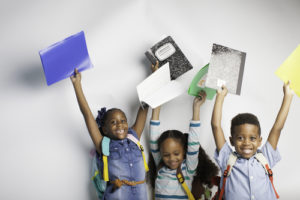 The weeks before school are often a swell of high expectations. Every child dreams of having a great, better than ever, epic school year. But the collision of expectations versus reality usually hits in the first few days of school. Parents deal with back to school stress for lots of reasons. But your kids are feeling it in their own way. Paying attention to the emotions that come with back to school and helping your kids formulate a strategy for returning to school with less emotional turmoil is going to help everyone in the household.
Even adults put too much on themselves to create ideals in their minds they can't live up to. The same goes for children. They want to fully enjoy their school experience in new and better ways than they did before. Like adults, when the ideal scenario starts to chip away, feelings of discouragement set in. How can we set up our kids for success instead of having to clean up the mess of feelings of failure?
Back To School Stress Reduction Starts With Getting Real
A lot of stress reduction for everyone starts with setting goals they can reasonably reach. Sit down with your kids and ask them what back to school looks like for them. What are they hoping it's like? Who are they looking forward to seeing? How do they expect to do in school this year?
Asking questions like this will help you understand what they hope for themselves in school this year. Understand why their hopes for school are so important to them. This will clue you into any unnecessary roadblocks to a successful school year start and what could contribute to back to school stress later.
Next, ask them what they are concerned about this coming year. What have they been worrying about before they start the year? Are they nervous about fitting in? Anxious to make that team or get a part in the school play? Do they have concerns about reconnecting with friends? Hear their answers. Too often, as parents, we brush off childhood worries as things that don't need to be focused on. Try to remind yourself that back to school stress is very real to them, even if the things they are worrying about seem silly to you. These answers will also help you keep an eye out for anxious behavior in the first few days of school.
Help Them Plan To Have A Successful Start To the School Year
Lastly, set goals for how to strategize for a successful school year based on their answers. Plan a small list of goals that will help them come home from the first days feeling good about themselves. Can they reconnect with one old friend from last year? Try and make one new friend this week? Can they plan to tell you about a time they shared something with a classmate? Could they look out for one opportunity to help someone? Maybe they could stay alert for one opportunity to be helpful to their teacher?
Planning to win is a great plan for success. Small, measurable goals for the new school week will go a long way to helping them plan to strategize for success every day.
Coming off the bus ready to tell mom or dad how they met their goals will make them feel accomplished. Encourage them in making a new list of goals once they complete the ones they made for the first week. Kids who feel good about themselves can't help but succeed. You can be part of that by helping them find ways to bring out their best and show them how uniquely good they are.
Stay Sharp When It Comes To Emotional Changes With School
Back to school stress is normal for nearly every child, every year. The anxiousness usually disappears as they settle into the rhythm of a new year. Sometimes even the best-laid plans fall apart for other reasons. If your child is exhibiting signs of withdrawal from family members, has mood changes, has sleep pattern changes, or seems depressed, this may be a warning sign that something isn't right at school.
Back to school stress this year includes dealing with school environment changes due to COVID-19 guidelines. Not every child is going to deal well with these changes. If your child seems emotionally affected by these changes, you need to help them process them. Calling the school guidance counselor for advice or seeking the advice of a specialist who helps with children who are facing emotional challenges can be of great assistance to you and your child.
It might be tempting to try and tell yourself that it will all eventually work itself out. It's easy to want to let them handle things on their own. Don't let negative emotional influences go on too long in your child's life. Facing adversity head-on is a very valuable skill for everyone in the family. Talking it out with someone who can help will make things turn around quickly and help things get back to normal at home.
If you'd like some guidance on dealing with family stresses, back to school stress or help with parenting skills, ABC Women's Center is here to help. If you need help getting your child the supplies they need to start school, reach out to us about free resources for your child. Contact us today to speak to someone who can help guide your family in a positive direction to a successful school year.