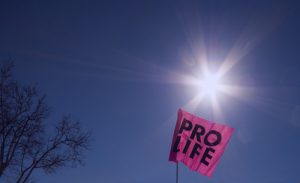 In case you just woke up from a coma yesterday after being asleep for the last 10 years, abortion is still legal. Not only is abortion legal, but the legal restrictions around abortion is at an all time low in a growing number of states. This shouldn't surprise anyone. Yet, Pro-Life people of all persuations seem to be scratching their heads as to why. Now that all hopes of a conservative government in the United States of America has been dashed for the foreseeable future, where does that leave the us trying to move the Pro-Life movement forward?
It's a worthy question to ask. Most Pro-Lifers have been very active in their political communities trying to get them to mobilize for a change. That has only been met with marginal success. Others have taken to social media to expose the ills of abortion. That also has yielded minimal results. So, what do we do? Where do we stand now in the Pro-Life movement? Are our hopes of an abortion-free America dead?
To Move The Pro-Life Movement Forward Is To Confront The Past
Did you know that 1 in 4 women have had an abortion by the time they are 45? That is not just a number for the non-saved. It's women in general. That's right, Christian women are just as likely to get an abortion as the unchurched. That statement should rock you. It should also call to mind a stunning truth. The church isn't doing a good job of meeting the needs of women facing an unplanned pregnancy. If they were, we'd see this number change dramatically.
Also, since we know that 1 in 4 women in America have had an abortion, there are a whole of men out there who contributed to these women finding themselves in abortion clinics. They are also in your church as well. Men are a lot less vocal about being involved in an abortion, so we don't hear to much from them about it either.
Since we know all this, what do we do about it? I mean, if the church is suffering from the ills of abortion right now, what hope is there for everyone outside of it?
The Church Needs Post-Abortive Healing To Help The Pro-Life Movement
Why don't churches get more active about post-abortive healing in their communities?
Lack of awareness
Unclear about resources
Not connected to post-abortive ministries
Shame around past abortions
Fear of judgement
To move the Pro-Life movement forward, we must deal with the past. There are countless people in your churches who are suffering needlessly because of past abortions. They need God's grace, but they also need the church's understanding and to see a strong desire from their church families to see them free, in Jesus' name.
Until we can heal from the past, we cannot move forward. A people that have been set free from past abortions are a force for change in the Pro-Life Movemen,t but we need to do the things we can as a church to get them there. Getting people to care about the cause means confronting one of the main reasons why they shy away from it. We are ashamed of their past.
Find A Post-Abortive Healing Ministry And Get Involved
There are pregnancy resource centers all over the country that provide post-abortive healing groups for men and women who want to be set free from the shame of past abortions. ABC Women's Center is passionate about seeing men and women in their area freed from the shackles of shame. If you are a church who is interested in how to move the pro-life movement forward, connect with your local pregnancy resource center today to find out more about their post-abortive healing services and find out how your church can get involved.
Are you in the Pro-Life movement now but are ashamed of your past abortion experience? You can find healing for yourself in one of these groups. Women who are ministering to other women while they silently sit in the shame of their secret abortion can find healing and peace there, too.
Let's confront the past together and move the Pro-Life movement forward faster than ever before by being freed from the weight that's dragging it down. Let the shame of abortion no longer win. If you want to get involved in ABC Women's Center's post-abortive healing ministry, contact us today.