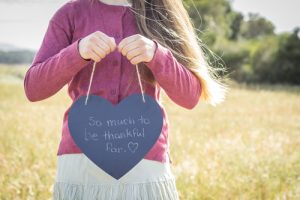 These days are consumed with Thanksgiving. For good reason, Thanksgiving is kind of a big deal in America. We love our Thanksgiving. The table, the food, the family, it's all so warm and inviting to think about. The whole day is devoted to eating and being thankful for all that God has given you this year. At least that is the intent of the holiday. Things aren't always going so well for everyone lately. It is hard to focus on gratitude when your circumstances are full of challenges.
When life isn't going as planned, counting your blessings can feel as easy to do as tying your shoes with one hand tied behind your back in the dark. Well-meaning people want to tell us to count our blessings. That feels about as good to a troubled soul as sandpaper to bare skin.
While counting your blessings is a good thing to do, how do you practically get it done with so much negativity swirling around? Here are some practical ways to focus on gratitude when life gives you lemons around the holidays.
Focus On Gratitude With This Practical Step
It might sound too simple, but keeping a gratitude list is a great way to count your blessings. If you want to focus on gratitude, it is best to write them down. Many people keep a gratitude journal for such an occasion. Start small. It doesn't have to be a big project. Most people who do this only write a handful of things to be grateful for per day. That will keep this endeavor manageable. Trying to do too much at once will feel overwhelming and leave you feeling like keeping a gratitude journal is another thing going wrong, rather than something to help you focus on gratitude this Thanksgiving. 
Most Dollar Stores have one-dollar composition books that make great gratitude journals. Start by numbering every line down the page. Set your sites on writing down five things per day to be grateful for. No matter what is going on in your life right now, there is something to be grateful for, and five is not a lot when you think about it.
Are you Alive?
Can you see?
Are you safe?
Are you healthy?
Do you have help?
Can you read?
Does someone love you?
Those ought to get you started. You get the idea. Every day you should think of new things to add. Don't overthink it. The new day will bring new things to the list. Don't get nervous if you only have a few today.
You will have more tomorrow. The point is to focus on gratitude, not worry about filling out a list.
Focus On Gratitude When You Aren't Feeling It
Another challenge to being able to focus on gratitude is trying to do so when you don't want to. Not everyone is in a good place to get themselves out of a bad place emotionally. That is when other people can get involved. Sometimes we are so clouded by negative circumstances that we can't see the good things too clearly.
When life gets you down, and you can't see the good, turn to a trusted person to help you count your blessings instead. Chances are, they can see the good things a lot more objectively than you can if you are in an emotional state of mind.
Do you have talents? They will remind you. Do you have friends? They will tell you they love you. Is family nearby? They will tell you that you can count on them.
No matter what is going on in your life right now, there is always something to which to be grateful. The people that have the most gratitude invariably always seem to be the ones that have the least, materially speaking. If they can be grateful, then so can you.
It is when we feel the lowest that we make the most positive changes. Many people have referred to that as 'the gift of desperation.' Adversity makes a person, not the other way around. You will see how your difficult circumstances were your greatest blessing later on. Trust in that.
What To Do If Your Difficult Circumstance Involves A Pregnancy
If you are struggling to be grateful in the middle of a pregnancy decision, we are here to help. ABC Women's Center is here for the woman facing an unexpected pregnancy, especially during the holidays. You can talk to us about your challenges and let us help you see the good in the difficulty. Contact us today for a free consultation.