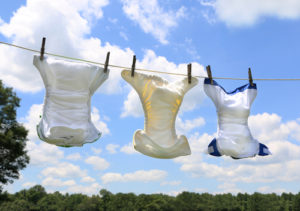 There are plenty of people out there who identify themselves as a pro-lifer. They have been storming the Internet clamoring for all things Pro-Life. The noise makes you believe there is more being done to help women who face unplanned pregnancies than there is. The average pregnancy resource center has zero funding from the government.
Most pregnancy resource centers are faith-based, so they are not eligible for grants and funds from the government to help supply them and keep them going. A pregnancy resource center that aims to stay open for those who need them has to find other means to fund their operation. Most, if not all, of their funding, comes from donations. 
Why some people donate to pregnancy resource centers and why some don't vary greatly. The adage is true, "Everyone knew something needed to be done, but Everyone thought Someone should do it, so No One did it." It's easy to think that with all the buzz on Pro-life issues on the Internet, there are a lot of people are donating to their local pregnancy resource center, so you don't need to get involved. You couldn't be more wrong.
The Average Pregnancy Resource Center Is Underfunded
Pregnancy resource centers provide, at a minimum, free pregnancy tests, pregnancy counseling, resource referral services, and a growing number also provides free ultrasounds. But free always comes with a cost.
"In 2017, PHCs, nationally, saved their communities at least $161,008,203 by subsidizing health care and other services at no cost to clients. An organization serving as the manager for one state's PHC funding program reported contributing a total of $44 million in tax savings in 2018 while receiving only $3.3 million in state funding." – Charlotte Lozier Institute 
The facts are clear. The impact a pregnancy resource center has on its community is real dollars saved to the taxpayers in the communities they serve every day. The truth is also clear; there is a disconnect in the community around what they are saving in tax dollars and what comes in from donations to properly fund those tax-saving services.
A pregnancy resource center primarily raises funds through monetary donations of loyal givers committed to their cause, one or two large fundraising initiatives. They also receive a bit more through charitable donations: many are one-time cash types or durable goods, such as diapers, baby clothes, and maternity items. 
What One Person Can Do To Make A Positive Impact Today
Giving a one-time donation is certainly a good thing for a pregnancy resource center. If anything, it keeps money coming in, in between larger fundraisers. But if you are one person reading this, you might think, how could I make a real difference for a positive impact on my neighborhood pregnancy resource center?
Many feel overwhelmed by the proposal to help out for any given cause. When there are no directions, it's easy to envision having to give way more than you anticipated. This is not so. There are many ways to make a practical, positive impact, without feeling like you've bitten off more than you can chew. If you want to get more involved in helping your local pregnancy resource center thrive, here are some suggestions:
Do a diaper bag drive – It feels like a lot to get your church or friends to give an undetermined amount of money to a pregnancy resource center but what if the monetary ask was something small and meaningful? Diaper Bag Drives are great ways to get involved, provide much-needed funds, and get others excited about what your local pregnancy resource center is doing for families in need. All you need to do is a diaper bag drive to provide enough funds to buy and stuff a diaper bag with needed supplies. 
Here's how to calculate what you are asking for:
one diaper bag
12-pack of diapers
baby bottle
can of formula
baby wipes
pacifier
baby receiving blanket
Start with either you or your friends, family, and/or church friends to collect enough money for one diaper bag. If you get more funds, then figure out how many diaper bags you provided for, based on what you collected. Giving people a small, obtainable goal will get them excited to exceed it. Asking people to contribute to large sums of money to raise for an open-ended reason makes people feel scared and skeptical about giving. Start small and get people excited to do more later.
Get a group to sponsor a mom – Work with your local pregnancy resource center to understand how much it costs them on average to provide services for one client for one month. You can take that figure and get a group involved in monthly donation giving, enough for one mom, for one month's worth of services. The meaningful giving of helping one person in need gets people emotionally connected to why they are giving. People are more apt to give if there is a person involved, even if they don't specifically know who is being impacted by their donation. Phrasing it as helping one mother in need is usually all you need to get people excited about helping her out.
Ask your pregnancy resource center what they need – It may be the simplest solution to making a positive impact on your local pregnancy resource center, but getting connected to the center's director to find out what their Right Now needs are will give you a concrete goal to meet.
Addressing these kinds of needs will help those who need help just in time. You can be the one who finds out what urgent needs are and be the herald to your local church or group of friends to mobilize them in getting those needs met. Most pregnancy resource centers welcome concerned citizens who want to meet immediate needs for their center. 
Practical Needs Being Met Makes Everyone Feel Good
Hopefully, these suggestions gave you some good ideas to start with. Maybe you came up with a few of your own while you were reading. The first step is identifying where your local pregnancy resource center is and establishing communication with them about how you would like to help. They can give you marketing materials and a needs list, so you can get moving towards a lasting relationship and provide help in a short amount of time. 
ABC Women's Center is always happy to educate organizations and church leaders about what we do and how we help families in need in our local community. If you'd like to understand practical ways you can help our pregnancy resource center, contact us today to find out more.