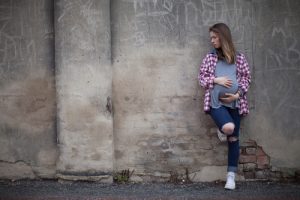 Pregnancy resource centers are often shrouded in mystery. What can a woman expect to find once she crosses the threshold of a pregnancy resource center for help? Most of all, what are the common myths about pregnancy resource centers that need challenging before she makes an appointment?
If you have ever hesitated to reach out to a pregnancy resource center for help or withheld giving to one because of the common myths about pregnancy resource centers, let's take some time to dispel the four common ones. You might not realize that some of this myth-making lives somewhere in the recesses of your mind. It's important to know what you can expect when dealing with a pregnancy resource center.
Common Myths About Pregnancy Resource Centers Involve Fear
Most of the misinformation that swirls around about pregnancy resource centers isn't about mismanagement of money or questionable leadership. But most of the myths about pregnancy resource centers are centered around tactics used to help women choose life for their unborn children. Those who are opposed to pro-life positions are convinced these places are where pregnant moms go to be scared into compliance. This couldn't be further from the truth.
Pregnancy Resource Centers Don't Scare Women About Abortion
One of the most common myths about pregnancy resource centers is that pregnancy counselors scare these poor pregnant moms witless into turning away from abortion as an option. This couldn't be further from the truth for a few reasons. The women who visit a pregnancy resource center for options are already afraid. That's why they are there.
She is concerned about the future
She wonders about her abilities to provide
She fears a lack of adequate resources
She is worried about enough emotional support
She thinks her plans for her life are ruined
These are just a handful of reasons women give to pregnancy counselors when discussing their plans for their pregnancy. What she needs when she visits is concrete answers to her questions, not scare tactics about choices. Moms ponder abortion because, at the time, it seems to be the most logical choice to the issue of an unexpected pregnancy. A pregnancy resource center deals with her fears and talks to her about real solutions. It's not about fear. It's about building confidence and coming up with a workable plan for something she didn't anticipate.
Faith-Based Pregnancy Resource Centers Force Christianity On Women
This common fear-based myth would suggest that pregnancy resource centers are only interested in helping Christian women. The truth is, women from all faiths and those without religion find the same kind of help at a faith-based pregnancy resource center. Counselors at these centers guide women in making the best decision for their lives and their unborn children. Mom may or may not be open to Christianity or the gospel. That's okay. The primary purpose of the center is to provide resources and real answers, not to force evangelism on unsuspecting women facing a crisis in their life.
Pregnancy Resource Centers Are Only Interested In Saving Babies
While it is true that most women become acquainted with a pregnancy resource center when they are facing an unexpected pregnancy, that is not the only family issue they deal with. Moms and dads come to a pregnancy resource center for parenting advice and classes too. Some families need help finding resources to get through hard times. Some women come to these centers for post-abortive counseling and healing. There are many reasons a family may need to seek help. The common myths about pregnancy resource centers involving a solitary interest in unborn children are false. Pregnancy resource centers invest in the success of each family they meet.
Pregnancy Resource Centers Are Typically Underfunded
The last and most important myth is that pregnancy resource centers are brimming with cash. It would seem to some that with all the clamor on the Internet about pro-life topics that these stumpers for life are just dying to give all their disposable income to their local pregnancy resource center to ensure the cause goes forward. This is a big misconception. Many on the Internet are generous about sharing information about the truth of abortion and pro-life issues, but very few of them are as generous with their pocketbooks. Many pregnancy resource centers are doing things to meet their clients' needs, even when giving is not where it should be.
Never make the mistake of thinking that enough people are giving. There usually isn't enough. Faith-based pregnancy resource centers in many states are not able to take advantage of state subsidies because they make a statement of faith. Churches are not the big givers of pro-life funds that most non-faith people think they would be.
Myths About Pregnancy Resource Centers Are Just Assumptions
Most misconceptions about anything are just assumptions that people have without doing any digging to find the source. We hope you have been delighted to find that these common myths are non-founded. But don't take our word for it. You can contact pregnancy resource centers like ABC Women's Center anytime. They'd be glad to help you understand what they do at the center and help you know what any woman who comes to the center should expect. It's about real information, it's about clear paths to success, and it's about understanding that life is possible if you know you have support in making that choice.