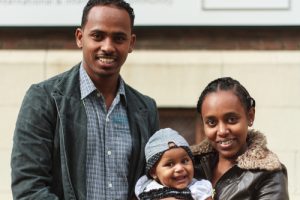 In the Pro-Life movement, there are other Pro-Life type subgroups. One of those subgroups is a term called Pro-Family. What does being Pro-Family mean? Isn't being Pro-Life enough of a banner? Most critics of the Pro-Life movement cite that the Pro-Lifers only care about saving a life and not the life of the mother carrying the baby after delivery. The truth is, most Pro-Lifers are quite interested in the family unit after mom and the baby that go home from the hospital. But the Pro-Family group is a lot more proactive about helping moms and babies become successful families.
Being Pro-Family should be the end goal of every pregnancy help ministry. If we are to lead men and women down the road of being parents, we ought to ensure that the result is a success. What can pregnancy help ministries do to assist parents after the delivery happens?
Being Pro-Family Means Welcoming All Members
One of the most critical things about being Pro-Family is including everyone who wants to be part of the decision. Too often, men are left out of crisis counseling sessions. The message in the past has been to disregard what the biological father wants, both on the Pro-Abortion and Pro-Life side. That has bred a culture of not valuing fathers as a position in a family. To be Pro-Family means that fathers have an equal footing both in the decision and in the family going forward. 
Pro-Family is about helping the expecting Mom and Dad be a united front to the rest of the extended family members. When a woman is facing an unplanned pregnancy, it can either be the biological father or extended family members who bring up abortion as an option. Helping Mom and Dad come together will ensure that everyone gets on board early with family preparation.
Pro-Family advocates are there to help Mom and Dad discuss all the barriers to being a successful family and to work to overcome the challenges. Many of the issues that come up when Moms and Dads are facing an unplanned pregnancy feel crucial at the time. Many parents find the workarounds for challenges in being a family very doable after some planning and discussion.
Pregnancy Resource Centers Are Equipped To Help The Family
The challenges that any Mom and Dad face have been dealt with by many parents that have come into a pregnancy resource center before. There is little that a pregnancy counselor has not heard. It is for this reason that pregnancy resources centers are equipped to meet the needs of Moms and Dads. It is the reason we can say they are not just Pro-Life but Pro-Family.
At many pregnancy resource centers, you will find compassionate staff and counselors who are there to help Moms and Dads find what they need to be a family. Pregnancy resource centers are connected to social agencies that provide anything from food assistance to subsidized housing options. Pregnancy resource centers often have emergency items like diapers and formula for Moms and Dads who need an extra hand getting their family needs met. Help and resources are always available for the family who needs their help. That is why volunteering and donating to a local pregnancy resource center near you is vital to being a Pro-Family community.
Many pregnancy resource centers offer parenting classes to get Mom and Dad off to a great start in being a family. Parenting classes are fantastic ways that Moms and Dads can take advantage of this offering and discover other ways that their local pregnancy resource center can help them be the family they want to be for their child.
Being Pro-Family Means Being An Active Participant
For Pro-Lifers who want to be active in ensuring that life-affirming decisions are being made in their communities, pregnancy centers are always looking for donors and volunteers to help. You can contact your local pregnancy resource center today to find out what they need help with in your area. Being Pro-Family means getting off the sidelines of Pro-Life issues and getting in the game. Are you in?