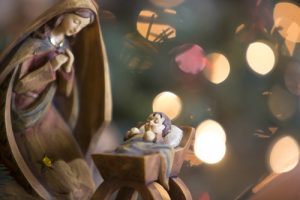 The Christmas season brings with it beautiful pictures of Jesus and His birth. It is a marvelous story of God's supernatural power and divine love for His creation. The scenes of the Holy Family are serene and full of promise. But if you back up the story by nine months you see a different kind of story. It's the kind of story that makes you rethink what you might understand about Mary. It helps you make sense of the magnitude of her role in the greatest gift God has ever given us. Mary was dealing with an unplanned pregnancy.
One might make the mistake of forgetting Mary was just a regular girl from a small town, just like so many of us. Mary was not unlike most girls her age. She was in love and planning to marry a man named Joseph. According to her, life was all fitting neatly into place. That is until one night when everything changed forever.
Dealing With An Unplanned Pregnancy Was Risky For Mary
Some might want to stop this right here and say, "Mary's pregnancy wasn't unplanned." Well, it wasn't for God. He planned it all along. He planned this pregnancy to a T. Mary wasn't in on the planning. No one plans on getting pregnant right before they get married, even today. And better still, this baby wasn't Joseph's natural son either. Talk about a scandal! In the 21st century, this news would have traveled around town fast. This was not uncommon in Mary's day or ours.
But Mary had another problem that most women dealing with an unplanned pregnancy in America are not facing today. Mary should have been stoned to death for being pregnant outside of wedlock. That was the punishment for such a situation then. She would have known this when she told The angel in Luke 1:38 that, "I am the LORD's servant. May your word to me be fulfilled." 
Mary Knew Joseph Wouldn't Be Happy About This
Doesn't it make you marvel that a girl her age, in the middle of planning a wedding would agree to such a thing? Of course, she would have to tell Joseph. She would have to tell her family. Sooner or later, people would realize that she was pregnant. Most women who are dealing with an unplanned pregnancy put that business off for as long as they can. If you were the one facing death for telling the truth, wouldn't you hesitate? Yet Mary simply said to let God's will be done. I can't even get my mind around that kind of faith. Not the kind of faith it takes to face death for doing God's will. None of us can.
The only way Mary could have walked out a faith that strong, to be able to carry a child as an unwed mother in a time that she would have been killed for it and have to tell her family about dealing with an unplanned pregnancy was through the power of the Holy Spirit Himself.
If you are wondering how on earth you could go through dealing with an unplanned pregnancy and see it through to holding a baby in your arms, all you have to do is look to Mary for the possibilities. She faced many challenges, and yet she knew God would be with her. She believed in God's outcome from the beginning, so she trusted God's process to get there, no matter what she thought might happen in the in-between.
We know that Joseph had some feelings about this change in Mary's life. I can only imagine what he had to say to her after she told him. Who would believe their pregnant fiancé that the reason she was pregnant was God? Sure, Mary. But it was true. Joseph pondered quietly walking away from their marriage contract. He convinced himself this was the best way forward that an angel had to visit him and tell him Mary was telling him the truth. Joseph became convinced through God that he needed to stay with Mary and see this thing through.
Mary Was Greatly Blessed By Letting God Interrupt Her Plans
We know the rest of the story. Mary and Joseph travel to Bethlehem to participate in the census, and she gives birth to a baby boy named Jesus. Well, not just any baby, the Savior of the World. What a story!
God creates every baby to fulfill a purpose on this earth. He plans every child, and He picks every mother by hand to mother them. Dealing with an unplanned pregnancy is scary. The unknowns tend to overshadow the truth about the miracle and blessing of life. If you are unsure about carrying your pregnancy through to the end, consider Mary. If you want to talk to someone about your pregnancy, we are here to listen. Contact us today for an appointment.