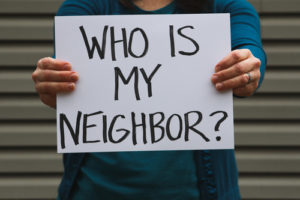 Whether you knew it or not, there is a national holiday to celebrate all the good neighbors we have in our neighborhoods. September 28th, 2020 is National Good Neighbor Day. We think there is plenty of cause for celebration. There are lots of people around you who would qualify as a good neighbor. You'll see for yourself once you get to know them a little better. Who are the people at your neighborhood pregnancy resource center? What kinds of people would you find if you visited the one near you?
What do you see when you think of the people who would volunteer at a neighborhood pregnancy resource center? Are they people who look like you? Do they think like you do? What would you want to ask one of them if you had the opportunity? Fred Rogers from Mister Rogers Neighborhood was always introducing good neighbors to the children on his show. With that in mind, we'd like you to meet a few of the good neighbors you have working every day at ABC Women's Center in Middletown, CT. Chances are, no matter which neighborhood pregnancy resource center is near you, there are people like these neighbors there, too. Let's meet a few of them.
Your Neighborhood Pregnancy Resource Center Is Staffed With People Just Like You
Did you know that most pregnancy resource centers have a diverse community of volunteers and staff? They come from all walks of life. They are specially equipped to meet the needs of a diverse neighborhood just like yours.
Please meet Mickeve Regis, our Client Service Manager. Mickeve helps coordinate the needs of women who come into the center for help and advice every day. She is dedicated to strengthening women in our community by helping them confidently make decisions about raising families. Mickeve's peaceful presence and calm voice will make you feel at ease right away. 
There are some interesting things about Mickeve that maybe you didn't know. While she is an American-born Haitian, Mickeve relocated back to Haiti with her family at the age of 6. She then returned to the United States at age 13. Mickeve has had the experience of living in two very different countries. She is also bilingual, speaking English and Haitian Creole.
Having lived in another country and then transitioning back to the United States makes Mickeve uniquely knowledgeable to meet the needs of immigrant families who need assistance at ABC Women's Center. We are very excited to have a woman with such amazing experiences to be able to use them to help others at our pregnancy resource center.
Next, we have Ruth Brigantti, our Development Director. Ruth is in charge of partnering with organizations, donors, and churches so we have the right resources to meet the needs of our clients when they arise. Ruth helps to raise awareness about the needs of the families that visit our pregnancy resource center. We are so blessed to have a dynamo like her on our side at this neighborhood pregnancy resource center. 
Ruth is a vibrant Latino woman who makes you smile as soon as you meet her. There are also some ways that Ruth's life has equipped her in her work at ABC Women's Center. Ruth grew up in a large family of 10, with mom and dad at home. At 14, Ruth had to tell her parents that she was pregnant. By 15, Ruth was a mom. 
Ruth's future also brought 3 more children to her as a single mother. Being a single mom can be scary, but Ruth saw it through. Later, she married her husband Moises and together they are a happy family of 8! Ruth didn't know what her future would hold, but God did. Ruth's drive to make ABC Women's Center successful comes from her struggles as a teen mom and seeing God work in her life to bring her husband and all her children together to be one family leaving a legacy of unconditional love and acceptance of one another. We can't think of a better legacy than helping other families have the same.
Lastly, we have Brittany Paladino, Online Marketing Consultant. She volunteers at ABC Women's Center as an online marketing strategist and blog contributor for the center. You might not see Brittany at the center very often, but that doesn't mean she isn't hard at work for her neighborhood pregnancy resource center. Brittany has a lot of purpose behind her drive to make ABC Women's Center as successful as it can be. Brittany was faced with an unintended pregnancy herself.
10 years ago, Brittany found herself having to make a decision for a child she was carrying. Brittany was already a single mom to her then 3-year-old daughter. Brittany chose life and adoption for her second child. While that choice was the right one for her, there was no neighborhood pregnancy resource enter near her to coach and encourage her through her decision. Brittany recounts that having no resources nearby made the decision a lonely one. Brittany wants to make sure there is always a neighborhood pregnancy resource center nearby whenever anyone needs one for that reason.
How To Find A Neighborhood Pregnancy Resource Center
If you are facing uncertainty with your pregnancy or you are wondering if you are pregnant, you need to know where you can go to for help. Pregnancy resource centers are here to help men and women understand what to do when they are facing an unintended pregnancy. They are also there for families with young children who need resources to help them confidently thrive as a family.
If you need any of these services, or you are facing a parenting and/or pregnancy problem you need help with, a neighborhood pregnancy resource center is just a call away. You can find the pregnancy resource center near you by checking out this list of pregnancy resource centers for locations and additional information. ABC is always ready to assist anyone who needs help with pregnancy and family resources in Connecticut. Contact us today for information on the services we provide. You are not alone a neighborhood pregnancy resource center is always available to help.