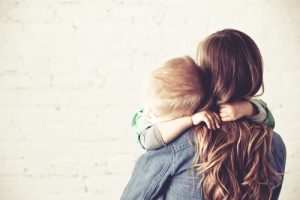 It is the time of year where we start thinking about ways we can show our appreciation for mom on Mother's Day. There are so many things that you can get a mom for Mother's Day, but what she usually wants is some peace to enjoy her family. Being a mom is tough. The role itself is about self-sacrifice. With all this pouring out for the family, Mom, where does that leave you? How can Mom feel better about taking care of herself? The guilt over putting yourself first can feel overwhelming, but it shouldn't be. A stressed-out Mom is a grumpy one. No one likes to be around Mom when she is grumpy, even Mom herself. 
There are only so many hours in the day, Mom. How can you fit in a little self-care, so you feel rested up? Is there a way even a single mom can make self-care a daily practice, so she doesn't sit down on the couch at the end of the day feeling like a wrung-out sponge once again?
Mom's Job Requires Taking Care Of Herself
If there is anyone who does not do her job well when she is overworked and overtired, it's Mom. But too often, Mom is trying to pour out for others like a dry pitcher. Try as you must, no water is coming out there. That usually leaves mom feeling frustrated and hopeless. She shouldn't feel that way. The nature of Mom's job is to be her best self so she can be there for everyone else in the family. It's not a perk to take care of yourself, Mom. It is your job. So practice a little self-care. It is a job requirement. 
Mom can feel better about taking care of herself when she schedules time for whatever makes her feel rejuvenated. There things Mom can do that fill her back up and make her feel better. They don't have to cost a lot of money either. If the whole family knows there is time set aside every week for when Mom needs to take care of herself, the ability to do so will go smoother. It is hard to get time in your week to take care of yourself when you are trying to cram it into everything else a busy household does.
Make time for you, Mom. Set aside at least one hour every week to focus on you. It could be that the only time you can manage is during the day when the kids are in school. Other times, it could be an hour after the kids go to bed or an hour on Sunday when a family member can take the kids for an hour. Whatever time you pick, that is your time. No other plans should interrupt that. Think of it as an appointment for you.
Mom's Physical Health Plays A Big Role In Her Mental Health
Sometimes it is the little things that make the most difference in helping mom feel better about taking care of herself. How mom feels physically has a lot to do with her ability to deal with stress. Being a mom takes a lot of emotional energy. If you are not feeling physically well, Mom, that takes a big bite out of your ability to deal with whatever the family throws at you.
Here are some simple tips to get mom feeling better in her body. Start with making one change this week and notice the difference.
Drink More Water – Everyone says this but have you realized why this has so many benefits? Not drinking enough water can make you feel run down and tired. Dehydration can also affect your concentration and increase feelings of hunger significantly. Too often, Moms go to coffee or sugary drinks to feel more energized when all they need is to drink more water. Sugary drinks and energy potions do more harm than good to your body. If you want a better pick me up, skip the soda, and have more water.
Eat Whole Food – One way the entire family can feel better is to include more whole food in their diets. What does that mean? It means focusing on more fruits, vegetables, and whole grains like brown rice or quinoa, instead of microwavable packaged food. Packaged food is usually high in sugar or sodium and pretty low on nutrition. For moms who want to have more energy throughout the day and feel less hungry, focusing on eating whole food is the way to go. The kids will feel better about the diet changes, too! Start small. Focusing on changing your diet a little at a time and see how much better you feel, Mom.
Get More Exercise – If you want to feel better, Mom, you have to move. Research shows that exercise increases energy. It does not deplete it. If you have been tired lately, it might be that you need to move more, not less. Skip the nap and go for a walk. Both your mind and your body will thank you.
We Want Mom To Feel Better About Taking Care Of Herself
Mother's Day is fast approaching. Many mothers are without adult family members to help them celebrate their special day. Won't you consider adopting a single mother for a Mother's Day celebration? What joy can you bring to a tired single mom than a time to celebrate the sacrifices she makes for her children every day?
If you are looking for better ways to celebrate and support single moms, contact our center to attend our annual fundraiser coming up on May 28th. We would love to have you hear more ways to help the woman who comes to our center for support and love.