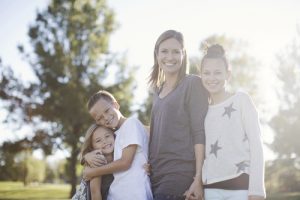 A lot of things are celebrated around women's accomplishments in March. There is International Women's Day and Women's History Month in March. We also celebrate all the mothers for Mother's Day in May. With all the celebration of women's accomplishments this Spring, maybe we should focus our attention on a certain group of women. These women walk a hard road, often alone in their journey. These are the single mothers.
Anyone who has been a single mother for any period and attest to its challenges. Where some mothers get to share the burden of raising young children with their spouses or co-parents, these women are doing it alone. It stands to reason that these women should be encouraged, lifted, and helped by the people who champion them to carry life. How can we do a better job of encouraging single mothers in their endeavor to raise their children well?
Single Mothers Don't Need Judgment 
I remember sitting in a restaurant with my daughter one afternoon. It was our tradition to go out to lunch after church on Sundays. It was a nice restaurant with carpeted floors and white linen-draped tables. The mood was quiet and with dimmed lights. It was the perfect setting for a nice meal while I reflected on the sermon I had heard just a half-hour before.
My daughter and I had a 3-year old's conversation as we were waiting for the waitress to bring our meal. We chatted on as an older woman looked on, smiling at my daughter. When my daughter's attention turned to her, she started talking to her about how pretty and smart she was. She was asking my daughter questions about her day and what she was going to have for lunch. I smiled down at my daughter and up to the lady as she talked to my daughter. The woman then glanced at my left hand, obviously noting that I was without a wedding ring. At this, her smile turned to a frown and she turned her body away from us while my daughter waited, looking at the back of her head to continue the conversation.
I was angered by this woman's behavior. Why would the absence of a wedding ring detract from the value of my child? What this woman didn't know, and what I didn't think she deserved to hear, was the missing wedding ring from my hand was the result of my husband passing away just months before our meeting.
Even if her assumptions about us were correct, this does not lessen my status as a mother or the value of my child. Life has equal worth despite the circumstances in every case. How we treat single mothers speaks volumes about how we value others and what we understand about how God values them. All are fearfully and wonderfully made by a Creator God, no matter what we think about how they live their lives.
We Can Love Single Mothers Better 
If charity starts at home, then the church ought to be doing a great job encouraging single mothers. Are we? What we do for single mothers in the church should be a model for how the rest of society treats them. Are we coming alongside them in their journey to find out how we can practically help?
Deaconate offerings for single mothers in need
Support groups for single mothers in Women's ministry
Mentorship programs for children who need fatherly guidance
Partnerships with Women's resource centers to help meet needs
There are practical needs for single mothers and then there are spiritual and emotional needs that often go unmet. Single mothers may not be available to come to your 9:00 AM mothers Bible study. What can we offer to single mothers who are working during the week?
Are we reaching out to our single mothers to find out if their children are interested in the children's ministry programs that your church offers? Are you asking her what emotional or spiritual concerns she might have for her children that your church and be focused on praying for?
Partnering With Women's Resource Centers To Help
What women's resource centers are your church partnering with to help women who need their help? Or often than not, these pregnancy centers can offer your church staff an education on how to help these women. They are also able to offer practical and spiritual assistance to single mothers a lot more adeptly than your women's ministry leaders can. 
Working with a trusted women's resource center like ABC Women's Center will help the single mothers in your church be able to confidently manage their journey as single mothers. Donated goods, information on community resources, pregnancy counseling, and parenting courses are just some of what a women's resource center like ABC can do for the single mothers in your church. If you are interested in partnering with a women's resource center to help support single mothers, contact us today for more information.